At 3 p.m. today, the Oakland Raiders will hold a press conference to introduce Jon Gruden as their next head coach. The most interesting part of the deal isn't that Gruden finally chose to leave ESPN's Monday Night Football booth after nine years but that the Raiders were willing to make an unprecedented contract offer to entice him: 10 years and US$100 million reportedly. Almost everyone who has voiced an opinion about the length and heft of the deal have been incredulous.
It seemed worth investigating how likely it is he could finish the whole 10 years. There have certainly been a few decades-long head coaching tenures in the NFL, but they are rare. How often has one head coach lasted 10 or more years with one team in one continuous stretch?
Below is a histogram showing the number and the percentage of head coaches broken into two-year increments, regardless of the number of teams he's worked for. The first bar shows the head coaches who have been the sideline boss for a total of 1-2 years, then 3-4 years, 5-6 years, and so on up to George Halas's 40 years with the Bears (of whom he also happened to be the owner).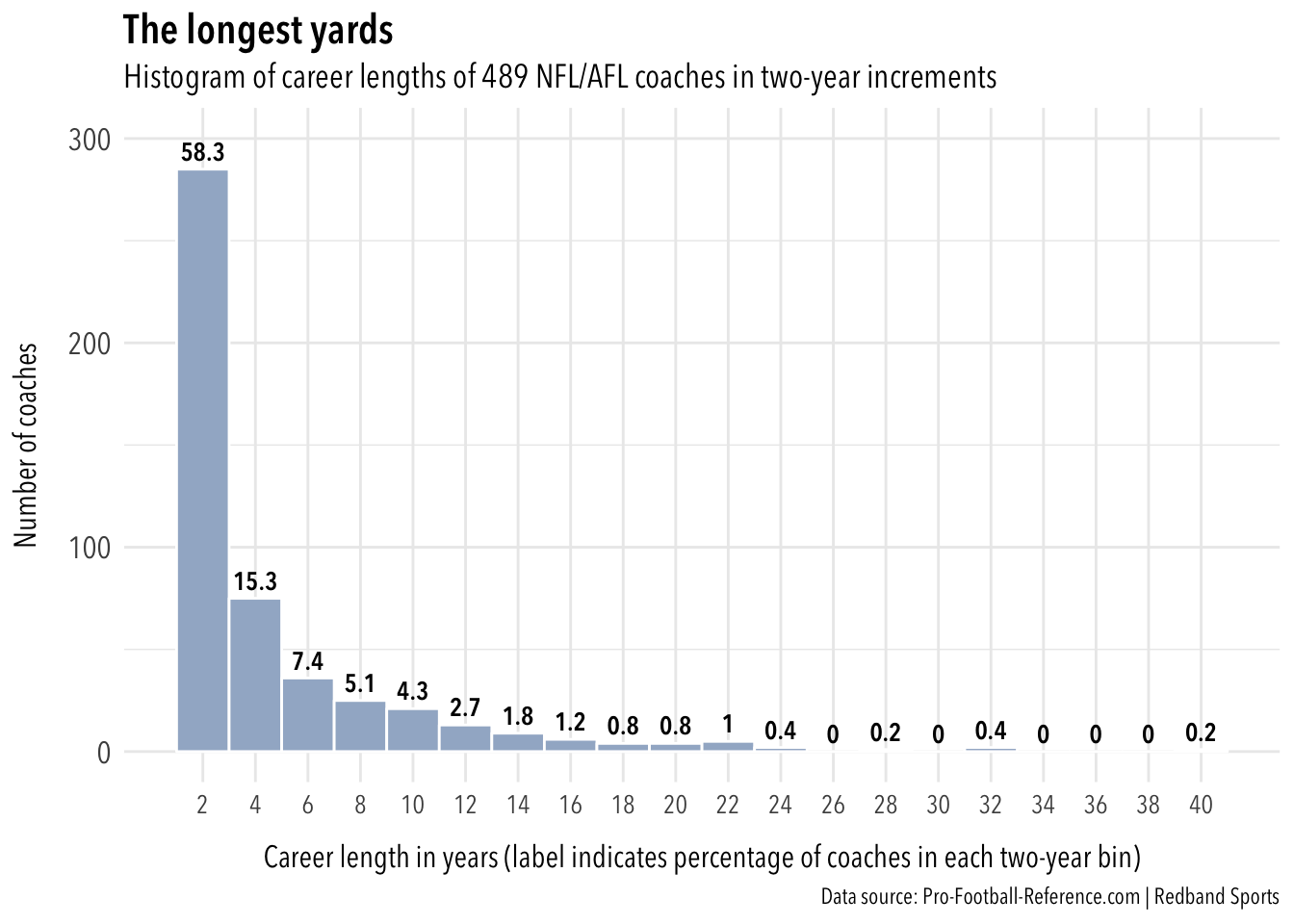 Only 13.9 per cent of the 489 head coaches in the AFL and NFL have lasted 10 years or more. Gruden already has 11 years under his belt, four with the Raiders from 1998-2001 and seven with the Buccaneers from 2002-08. He's already beaten those odds. To become a 20-year man, he would join a list of only 15 men that includes Don Shula and Curly Lambeau (33 years), Tom Landry (29 years), Bill Belichick (23 years and counting), and Chuck Noll and Dan Reeves (23 years). Andy Reid will hit 20 years next season.
Of the 68 head coaches who have had careers of 10 or more years, only 33 managed to have a tenure with one one team that lasted for 10 or more years. Below is a chart of those tenures, sort from earliest to most recent. Incredibly there are six coaches currently compiling one of these long-term assignments.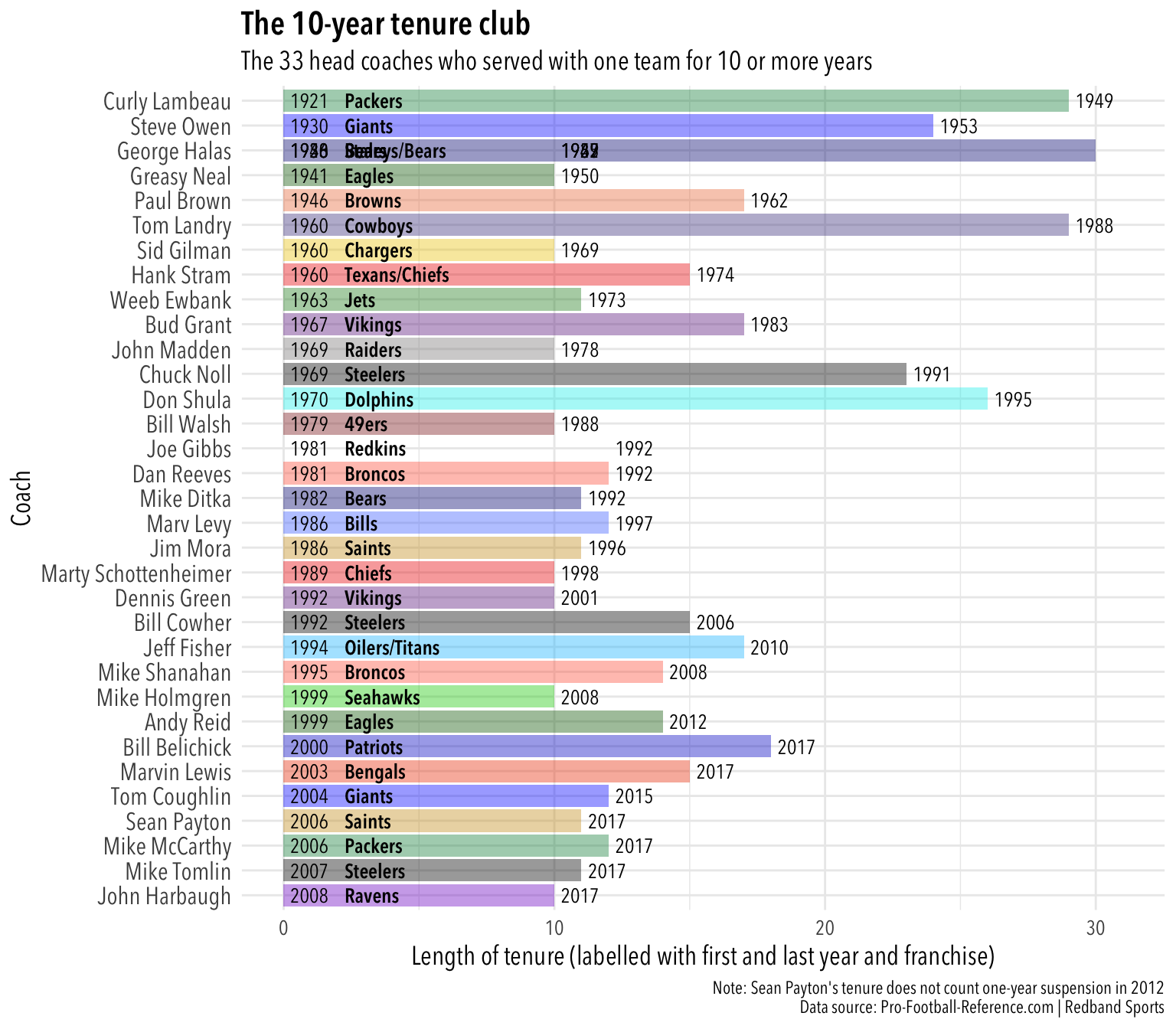 We're including the Saints' Sean Payton, even though his tenure is bisected by his 2012 suspension from the Bountygate investigation. We won't credit him for the year he sat our but we'll give him credit for an unbroken term of employment.
It's interesting that Halas was head coach for 40 seasons but that they came in four 10-year increments. He was a owner-player-coach in the first segment, and he returned the bench for the second instalment to save money during the Depression. His third stint came after he served in the Navy. His fourth period lasted until the beginning of the Super Bowl era.
Finally, let's look at the Raiders history, with a chart that shows their wins each season, labels the three Super Bowl-winning seasons and marks the four periods in which the head coach lasted at least as long as Gruden's first four-year tenure.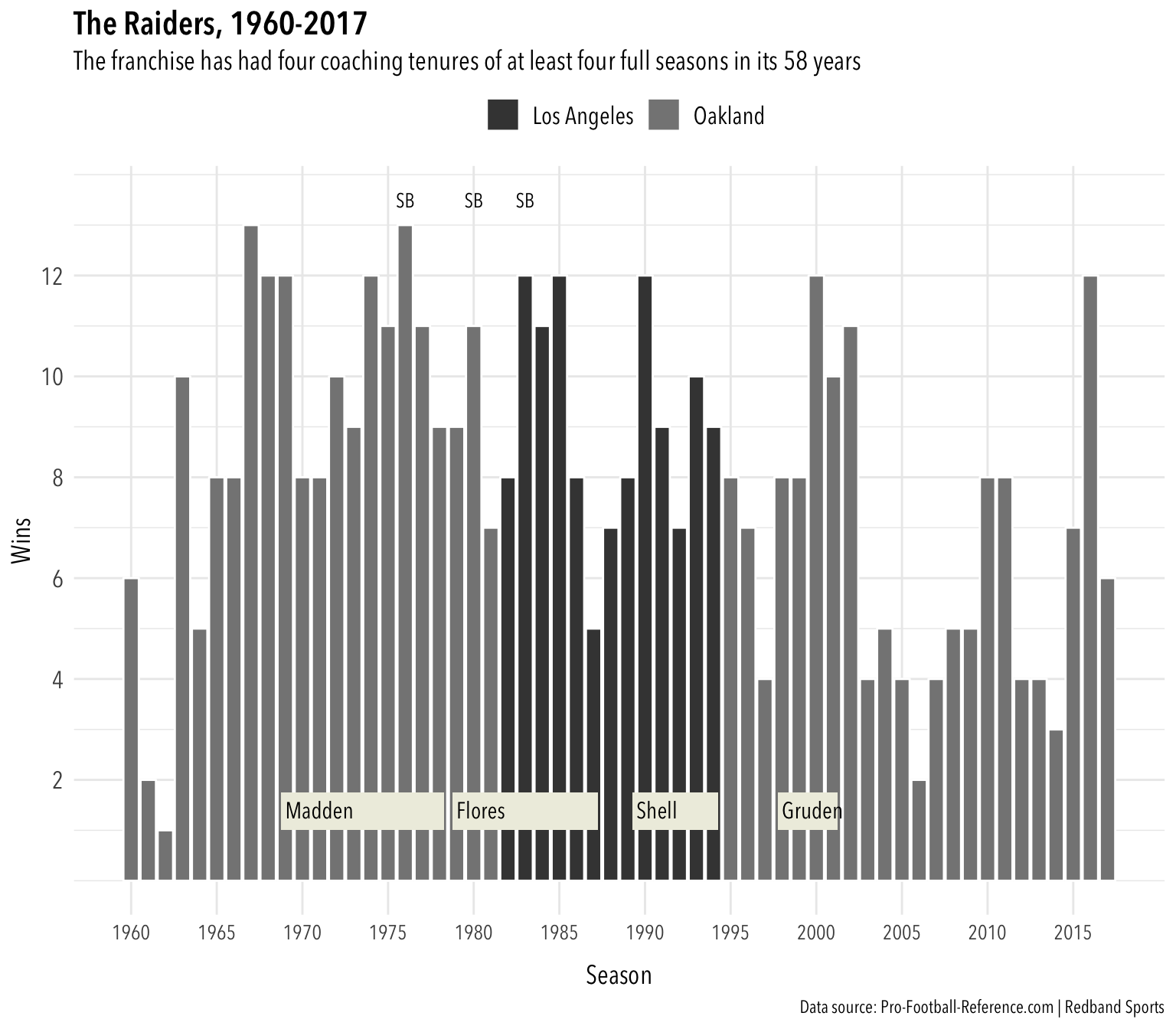 John Madden and Tom Flores are easily the two most successful coaches in team history, which spans 21 head coaches. The Raiders have only been to the playoffs twice since Gruden was traded by Al Davis to Tampa Bay before the 2002 season for four draft picks and $8 million. Oakland, under Bill Callahan, lost the Super Bowl XXXVII to Gruden and the Buccaneers that first season after the trade. After a 13-year drought, the Raiders were a wild-card team in 2016 under Jack Del Rio.
Now Gruden has been given a long horizon to return to Raiders to their glory of the late '70s and early '80s.
Originally written for Hot Buttered Post at National Post